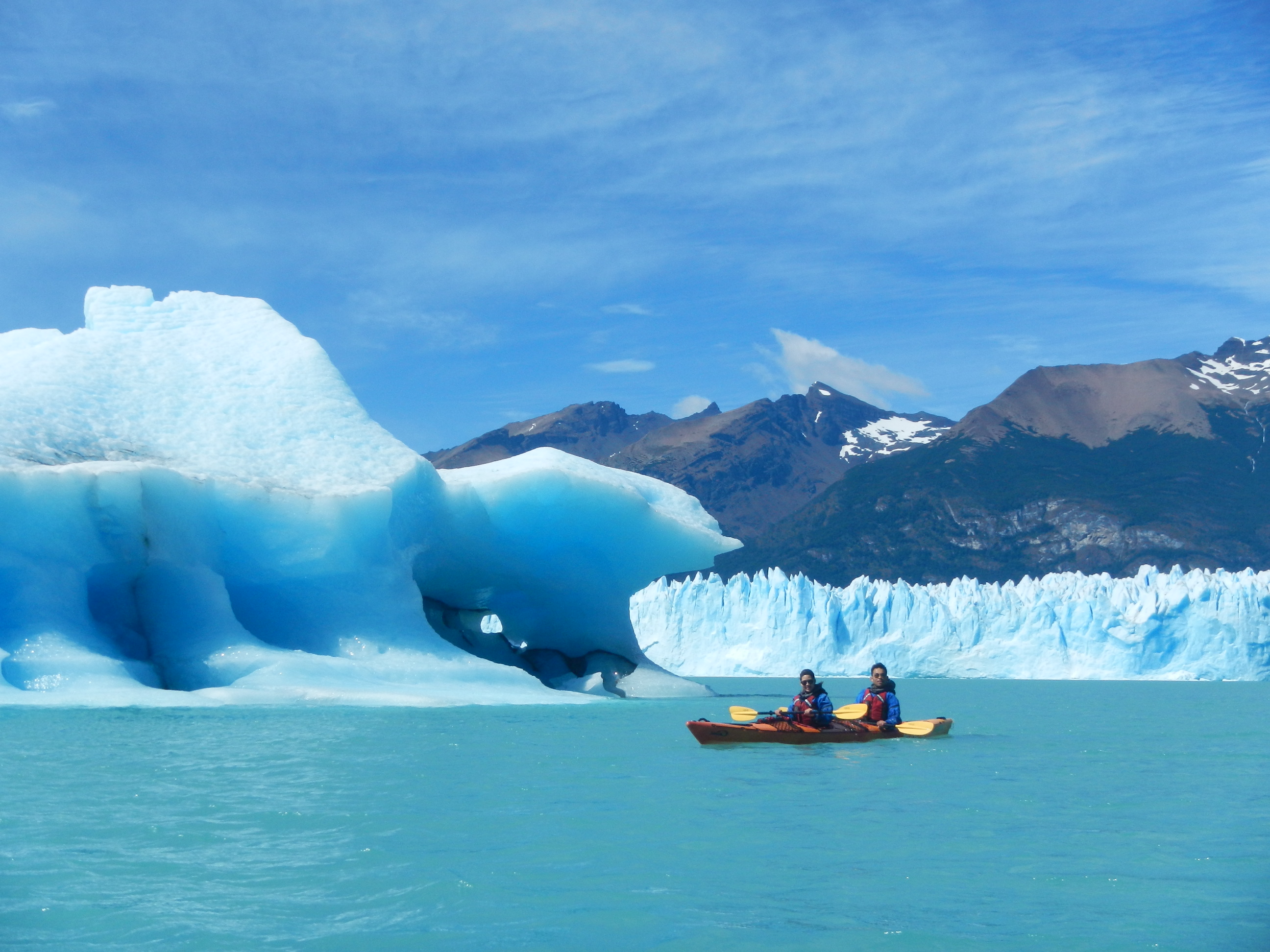 We invite you to have a glimpse of a brand new glacial adventure in El Calafate. Paddling a kayak, get as close as you can get to the striking Perito Moreno Glacier.
---
It's well known that UNESCO remarks the outstanding universal value of Los Glaciares National Park, including it on the World Heritage list to protect it. On its own words, "an area of exceptional natural beauty". We couldn't agree more. Milky grey glacial lakes, imposing mountains, glaciers and icebergs in many hues of blue frame this unique and breathtaking environment, where the cracking of ice is everything you'll hear.   
The most astonishing sight is – of course – the world famous Perito Moreno Glacier, which calves into the icy waters of the Lake Argentino. Both of these natural attractions are the protagonists of this new kayaking experience, recently launched.
After picking you up from your hotel in El Calafate, we'll arrive to the National Park around 10 am. You'll meet the expert team at the base dome, where they'll explain how the activity will develop.
At the dome you'll also get dressed for the occasion: you'll be provided of a Gore-Tex drysuit, thermal suit, boots and gloves, and a life vest. After getting ready, at the lake shore the guides will provide an instructional and safety talk. Don't worry if you have never been on a kayak before, they'll explain the basics to paddle on these glacial waters.
Then, you'll board the kayak at Los Témpanos beach and paddle towards the northern face of the Perito Moreno, located just in front of us. On this quiet realm, at water level,  you will appreciate the magnificence of nature at first hand, a unique perspective of this fascinating and millenary ice wall. Also, the guide that joins you will tell you more about it and the surroundings. And don't forget about the pictures!
After paddling between rests for an hour and a half, we will return to the dome for some hot beverages and snacks. But the day is not over yet! You will have time until 5 pm to enjoy a lunch box, rest and explore the National Park and contemplate once more the Perito Moreno from the walkway. Then, you will be taken back to your hotel in El Calafate.
This is a one in a lifetime, brand new experience. Never before was it possible to navigate on a kayak across these protected waters and so close to the glacier. You'll certainly feel lucky to experience it for yourself.
---
GENERAL INFORMATION
Full day service. Pick up from hotel starting at 8 am. Drop off at 6 pm approx.

Operates everyday except on June and July.

Included: Round-trip transfers from hotels in El Calafate – Kayak equipment and clothing – 1.5 hs of kayaking activity – Lunch box, beverages and snacks – An USB flash drive with pictures of the day.

Not included: Entrance fee to the National Park.

Min. 2 pax required to book this experience. Max. 20 pax.

Min. age required: 14 years old. Children between 14 and 18 years old must be joined by their parents or guardians.

No previous kayaking experience required.

Medium degree of difficulty.

Activity subject to weather conditions.
This experience is also available as a kayaking excursion, without transfers and lunch box. Operates at 10 am and 2 pm. Please, contact your Kallpa Executive for more information and price of this option.